Vantrue X1 Dash Cam – Full HD 1080P 1920×1080 y Visión Nocturna
Vantrue X1 Full HD 1080P Dash Cam 170° Wide Angle 2.7" LCD In Car Dashboard Camera DVR Video Recorder with G-Sensor, HDR, Parking Mode & Super Night Vision Color: Black Type: Dash Cams Screen Size: 2.7" Image Sensor: CMOS Pixels: 1920x1080P Resolution: 1920x1080P Lens: F1.8 View Angle: 170 Deg.
Queda en $71.99 con el deal actual.
Producto
Especificaciones
Fotos
1080P Dash Cam: Super compact size mini dash cam(3.5 x 1.4 x 1.9 inches), Full-HD 1920*1080 at 30 fps+HDR provides great sharp video quality and super night vision, clearly captures the license plates cars as well as road signs during the day and night. While 170° wide viewing angle presents a wide field of view and splendor scenario without distortion.
Usually ships in 24 hours
& Free shipping
Última actualización:26 Junio, 2017 1:58 am
1080P Dash Cam: Super compact size mini dash cam(3.5 x 1.4 x 1.9 inches), Full-HD 1920*1080 at 30 fps+HDR provides great sharp video quality and super night vision, clearly captures the license plates cars as well as road signs during the day and night. While 170° wide viewing angle presents a wide field of view and splendor scenario without distortion.
Super Night Vision: F1.8 Six layers glass lens+unique HDR video system automatically adjust exposure, helps in capturing smaller details not normally seen at night while driving, providing super night vision.
Parking Mode: Auto switch the dash camera to Parking Mode. Triggered by the motion detector, the dash cam will automatically record when people or things come closer to your car from 10M / 33FT away in front. Please hard wire it or connect it with an external battery on Parking mode.
Emergency Lock: Automatically turn on and record when the car starts. G-sensor detects any impact and automatically/manually locks the important video segments to the "Event" folder, so you will never miss an important moment.
Seamless Loop: loop recording overwrites the oldest footage with the newest upon filling a card to capacity. Auto LCD OFF after the recording begins so you won't be disturbed by another glowing rectangle on your windshield. Support up to 64GB card, please format it to FAT32 before use. Optional GPS module allow you track the driving route and speed. To use gps function, please buy a gps mount(asin: B00UA224DY)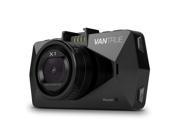 Vantrue X1 Full HD 1080P Dash Cam 170° Wide Angle 2.7" LCD In Car Dashboard Camera DVR Video Recorder with G-Sensor, HDR, Parking Mode