De horas a días, el teléfono inteligente moto g power 64GB de Motorola amplía lo que puede hacer con una carga completa. Gracias a la batería incorporada de 5000 mAh, la potencia de moto g puede ofrecer hasta 3 días de duración de la batería. Con tanta potencia, puedes transmitir hasta 150 horas de audio, atravesar tu programa favorito y tomar muchas fotos de alta calidad.

Capture imágenes impresionantes y creativas con el sistema de cámara triple del moto g power y los modos de fotografía asistidos por AI. Puede elegir entre una cámara principal de 16MP, ultra gran angular de 8MP o una lente macro de 2MP dedicada. En la parte frontal del teléfono, sus necesidades de selfies se satisfacen con una cámara adicional de 16MP. Cuando esté listo para relajarse con un poco de transmisión de video o juegos móviles, puede sumergirse en la experiencia con la gran pantalla FHD + de 6.4 «de la moto g power y los altavoces estéreo duales Dolby-tuned.

Al ejecutar el sistema operativo Android 10, sus aplicaciones funcionan con un procesador móvil Qualcomm Snapdragon 665 y 4 GB de RAM. La memoria integrada de 64 GB le permite almacenar aplicaciones, fotos y otros archivos, que se pueden ampliar con una tarjeta microSD opcional (hasta 512 GB). Esos archivos y otros datos personales están protegidos con un lector de huellas digitales posterior. Este teléfono está desbloqueado y es compatible con redes GSM + CDMA / 4G LTE. Conéctese a Internet y a otros dispositivos con Wi-Fi 5 integrado de 2.4 + 5 GHz (802.11ac) y Bluetooth 5.0.


Historial de precios para Moto G8 Power | Unlocked | International GSM only | 4/64GB | 13MP Camera | 2020 | Blue

Ultimas actualizaciones:

$179,99 - May 30, 2021
$189,99 - May 21, 2021
$185,00 - April 28, 2021
$189,99 - April 12, 2021
$185,00 - April 7, 2021
$199,99 - April 3, 2021
$199,00 - March 29, 2021

Desde: June 25, 2020

Highest Price: $219,00 - July 5, 2020
Lowest Price: $159,99 - November 10, 2020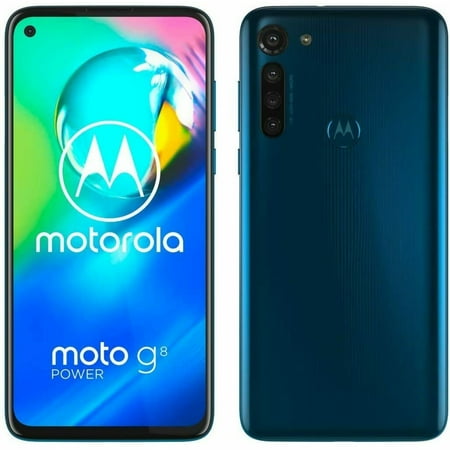 Motorola Moto G8 Power XT2041-1 64GB Hybrid Dual SIM GSM Unlocked Android SmartPhone - Capri Blue
as of junio 13, 2021 5:47 pm
Experience the power to be your creative best. Say hello to moto g8 power. With its 5000 mAh battery, you can go more than 2 days on a single charge—and do the things you want without worrying about recharging. Shoot photos from close up, far away, or anywhere in between with an AI-powered quad...
Moto G8 Power 4/64GB (2020)