Roku Streaming Stick+ | HD/4K/HDR Streaming Device with Long-range Wireless and Voice Remote with TV Controls (updated for 2019)
Transmita más de 500 canales de entretenimiento
Wi-Fi integrado de doble banda 802.11ac
Reproduce videos 4K de 720p, 1080p y UHD
Soporta HDR10
Upscales 720p y 1080p a Near-4K
1 x salida HDMI
Control de aplicaciones para Android e iOS
Búsqueda por voz a distancia
Control remoto por voz con potencia y volumen de TV
Acceda a más de 500 canales de entretenimiento con una resolución de hasta UHD con soporte HDR10 con Roku Streaming Stick +. Su diseño compacto de 0.8 x 3.7 x 0.5 «lo hace adecuado para conectarlo a pantallas montadas en la pared. Una vez conectado al puerto HDMI de una pantalla, el Streaming Stick + se conectará a Internet a través de su conectividad Wi-Fi incorporada y es controlable
Precio
$47,05
$49,99
Envío gratuito
67 Nuevo Desde $44,99
27 Usado Desde $36,00

as of enero 26, 2021 9:46 pm
Características
New! Peacock is now streaming on all Roku devices
Wireless that goes the distance: Basement rec room? Backyard movie night? Bring 'em on. The...
Brilliant picture quality: Experience your favorite shows with stunning detail and...
Tons of power, tons of fun: Snappy and responsive, you'll stream your favorites with ease—from...
Imágenes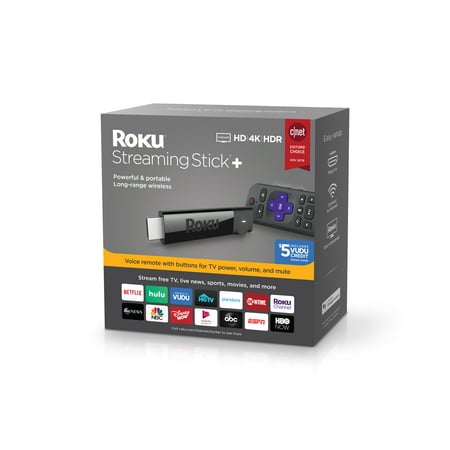 Roku Streaming Stick+ HD/4K/HDR Streaming Device with Long-range Wireless and Voice Remote with TV Controls
as of enero 27, 2021 8:46 pm
Powerful & portable. 4K & HDR streaming with long-range wireless. Powerful and portable, Roku® Streaming Stick®+ is super-charged with a long-range wireless receiver for 4x the range and brilliant HD, 4K, and HDR picture quality. You will enjoy a stronger signal for smooth streaming even in rooms farther from your router. The included voice remote features buttons to turn on your TV, control the volume, mute, and search across channels with your voice. With easy access to free TV, live news, sports, movies, and more on hundreds of free channels, there's plenty to enjoy without spending extra.
Roku Streaming Stick+ | HD/4K/HDR