Con Live Focus y una lente de detección de profundidad de 2MP, el teléfono inteligente Galaxy A01 SM-A105M Dual-SIM de 16GB de Samsung le brinda la capacidad de tomar retratos y selfies de estilo profesional con fondos ricos y borrosos. La cámara principal de 13MP y la cámara frontal de 5MP también pueden capturar imágenes y videos de alta resolución estándar. Ya sea que disfrute de tomar fotos o lo último en transmisión y juegos, puede hacerlo todo en una pantalla HD + Infinity-V de 5.7 «.


Historial de precios para Samsung Galaxy A01 16GB/2GB RAM (SM-A015M/DS) Dual SIM, 5.7" Display, GSM Unlocked, International Version - Blue

Ultimas actualizaciones:

98,59 - August 2, 2022
124,50 - June 15, 2022
106,15 - February 13, 2022
159,50 - January 21, 2022
120,00 - November 5, 2021
75,97 - November 4, 2021

Desde: November 4, 2021

Highest Price: 159,50 - January 21, 2022
Lowest Price: 75,97 - November 4, 2021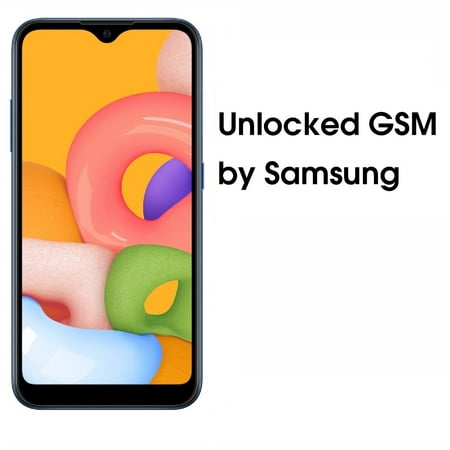 Samsung Galaxy A01 A015M 16GB Dual Sim GSM Unlocked Phone (International Variant/US Compatible LTE) - Blue
out of stock
as of agosto 15, 2022 4:46 pm
International Version: International LATAM Version means the item will have an International LATAM warranty, but no warranty in the USA. This phone is compatible with GSM Networks only such as AT&T, T-Mobile, H20, Simple Mobile, Consumer Cellular, Metro PCS, Cricket, GSM, Tracfone GSM, Ting GSM, Project Fi GSM, and other prepaid carriers. This phone will NOT work with any CDMA Networks such as Verizon, Sprint, and US Cellular. A SIM card and service plan must be purchased separately. Network compatibility listed here is for reference only and does not guarantee phone compatibility. Please ensure to check compatibility with your carrier prior to purchase. No warranty in US. Game for hours, stream a whole series, or do more all at once with Galaxy A01's 5.7-inch HD+ TFT screen. The Infinity-V Display's mini camera notch creates a v-cut screen for a bigger view and an immersive experience. alaxy A01's colors are intensified by the modern matte finish. The slender body is 8.3 mm so it...
Samsung Galaxy A01 (SM-A015M/DS)