Más cámara, más potencia, más diversión, en una forma delgada y equilibrada. Cree en cualquier lugar en el elegante y potente Galaxy S20 5G con una pantalla expansiva Infinity-O de 6.2 "y un nuevo y radical Zoom espacial de 30x. El diseño moderno del Galaxy S20 5G te brinda una experiencia inmersiva de calidad cinematográfica con funcionalidad de nivel superior. Tome imágenes y videos de alta resolución y calidad profesional con una cámara innovadora de 64MP y un sistema completo de lentes de estudio con súper estabilización. Las características como Single Take AI hacen que sea rápido y fácil capturar múltiples fotos y videos con un solo toque. Acérquese, incluso a 100 pies de distancia, y capture imágenes nítidas por la noche, incluso sin flash, con el modo Noche brillante. Comparta su contenido en tiempo real con el intercambio de doble toque y obtenga horas de energía de minutos de carga con carga súper rápida. La batería inteligente del Galaxy S20 5G dura todo el día para alimentar cada desplazamiento, clic, llamada, toque, lista de reproducción y final de temporada. Haz más de lo que amas con el dispositivo que te brinda más. Nota: Samsung Galaxy S20 5G no funciona en la red Verizon 5G mmW. Funcionará en la red Verizon 4G LTE. Ver transportistas para más detalles.


Historial de precios para Samsung Galaxy S20 5G Factory Unlocked New Android Cell Phone US Version | 128GB of Storage | Fingerprint ID and Facial Recognition | Long-Lasting Battery | US Warranty |Cosmic Gray

Ultimas actualizaciones:

$483,73 - September 20, 2021
$999,99 - September 20, 2021
$461,23 - September 19, 2021
$483,73 - September 18, 2021
$399,95 - September 18, 2021
$461,23 - September 17, 2021
$483,73 - September 15, 2021

Desde: September 24, 2020

Highest Price: $999,99 - October 1, 2020
Lowest Price: $349,95 - June 23, 2021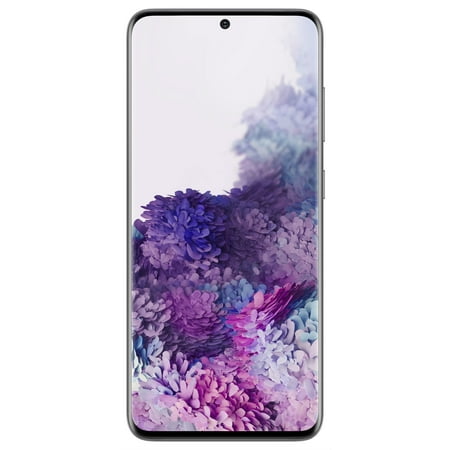 SAMSUNG Unlocked Galaxy S20, 128GB Gray - Smartphone
as of septiembre 18, 2021 9:47 pm
Create anywhere on the sleek, powerful Galaxy S20 5G with an expansive 6.2" Infinity-O display and radical new 30X Space Zoom.1 Single Take AI Capture video and multiple types of images with one tap of the shutter button. Galaxy 5G Transform and superpower everything you do with Galaxy 5G. 30x...
Samsung Galaxy S20 – Snapdragon