Samsung Galaxy Tab S6 Lite 10.4″, 64GB WiFi Tablet Oxford Gray – SM-P610NZAAXAR
Vaya a donde la inspiración lo lleve con el Samsung Galaxy Tab S6 Lite de 10.4 «. Apto para todo tipo de usuarios, su pantalla de 10.4» tiene una resolución de 2000 x 1200 para detalles claros ya sea que esté viendo documentos, completando su última obra maestra o simplemente mirando una película. El lápiz óptico S Pen incluido se puede usar para componer y editar documentos, dibujar y mucho más. Para que todo funcione sin problemas, el S6 Lite está equipado con un procesador Samsung Exynos 9610 de ocho núcleos, que tiene gráficos integrados y 4 GB de RAM. Los usuarios tendrán 64 GB de almacenamiento con este modelo y pueden expandirlo a través de la ranura microSD. Las opciones de conectividad incluyen Wi-Fi 5, Bluetooth 5.0, conector de audio de 3.5 mm y un puerto USB 2.0 Tipo-C para cargar y transferir datos.
Inspiración para pintar
El lápiz óptico S Pen incluido tiene un agarre cómodo, baja latencia y alta sensibilidad a la presión para dibujar, editar documentos y mucho más. También tiene un soporte magnético incorporado, para que no se pierda.
Llevar con confianza y estilo
La cubierta del libro Galaxy Tab S6 Lite, que se vende por separado, se pliega para una protección total y se conecta magnéticamente para facilitar su uso. Incluso hay un compartimento para el S Pen, por lo que no se queda atrás.
Audio
Los altavoces duales sintonizados por AKG proporcionan un sonido envolvente Dolby Atmos espacioso para una experiencia de escucha envolvente.
UPC: 887276410401
Precio
$345,95
17 Nuevo Desde $339,99
2 Usado Desde $297,61

as of enero 23, 2021 9:48 pm
Características
The included S Pen makes it easier than ever to write notes and personalize photos and videos,...
Slim Metal Design: Take this sleek, lightweight tablet anywhere. Its slim design slips right into...
Entertainment Ready: A vivid, crystal clear display draws you into content while dual speakers...
Long-lasting Battery: A long-lasting battery lets you stream for up to 13 hours (Battery power...
Imágenes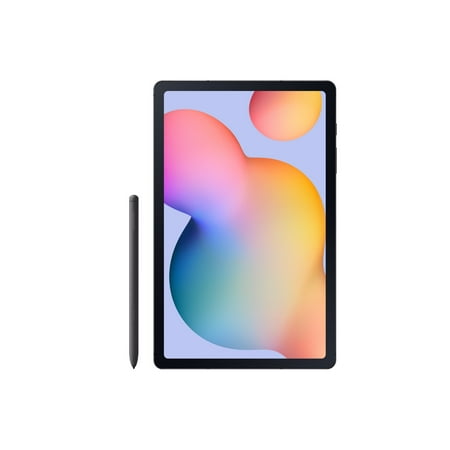 SAMSUNG Galaxy Tab S6 Lite, 64GB Oxford Gray (Wi-Fi) - SM-P610NZAAXAR
in stock
as of enero 22, 2021 10:48 pm
Make your mark. With the Samsung Galaxy Tab S6 Lite, you can leave your mark on whatever comes your way. The included S Pen lets you effortlessly create, edit, and navigate through your work. And its expansive display and sleek, lightweight build makes it perfect for entertainment on-the-go....
Samsung Galaxy Tab S6 Lite 10.4″, 64GB Tablet – SM-P610NZAAXAR