TCL 50S425 50 inch 4K Smart LED Roku TV (2019)

Disfruta de la transmisión de contenido con solo presionar un botón con el TCL S425 50 «Class HDR 4K UHD Smart LED TV. Tiene una resolución nativa de 3840 x 2160, y la tecnología de mejora de movimiento CMI de 120 Hz ayuda a reducir digitalmente el desenfoque comúnmente asociado con el rápido -movimiento, objetos en pantalla La compatibilidad HDR10 lo ayuda a producir colores brillantes y vibrantes cuando se usa con contenido y equipos compatibles.


Historial de precios para TCL 50S425 50 inch 4K Smart LED Roku TV (2019)

Ultimas actualizaciones:

$439,50 - May 18, 2022
$444,00 - May 15, 2022
$412,50 - May 13, 2022
$408,00 - May 12, 2022
$420,00 - May 11, 2022
$423,50 - May 8, 2022
$431,28 - May 6, 2022

Desde: May 29, 2021

Highest Price: $560,00 - July 7, 2021
Lowest Price: $279,99 - September 24, 2021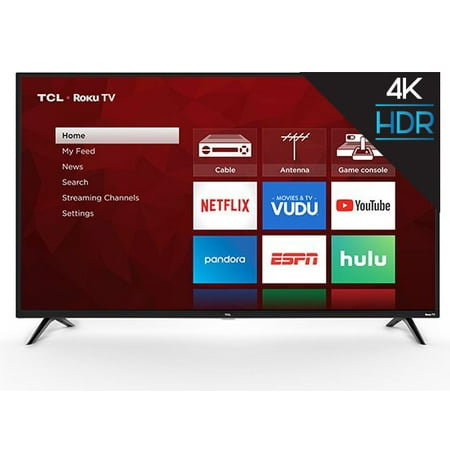 TCL 50" Class 4K UHD LED Roku Smart TV 4 Series 50S421
out of stock
as of mayo 19, 2022 8:48 pm
The 4-Series 4K TCL Roku TV delivers stunning Ultra HD picture quality with four times the resolution of Full HD for enhanced clarity and detail, as well as endless entertainment with thousands of streaming channels. High dynamic range (HDR) technology delivers bright and accurate colors for a lifelike viewing experience. In addition, your favorite HD shows, movies, and sporting events are upscaled to near Ultra HD resolution with 4K Upscaling. The simple, intuitive Roku interface allows seamless access to over 500,000 streaming movies and TV episodes, your cable box, Blu-ray player, gaming console, and other devices without flipping through inputs or complicated menus.
TCL 50S425 50 inch 4K Smart LED Roku TV (2019)