TP-Link Wifi 6 AX1500 Smart WiFi Router – 802.11ax Router, 4 Gigabit LAN Ports, Dual Band AX Router,Beamforming,OFDMA, MU-MIMO, Parental Controls, Works with Alexa(Archer AX10)
Disfrute de velocidades superiores a gigabits con el enrutador Gigabit inalámbrico de doble banda Archer AX10 AX1500 de TP-Link. Este enrutador admite el protocolo Wi-Fi 6 (802.11ax) para velocidades de transferencia de datos de red inalámbrica de hasta 1501 Mb / s. Esa velocidad se divide entre la tecnología de doble banda, con hasta 1201 Mb / s en la banda de 5 GHz y hasta 300 Mb / s en la banda de 2.4 GHz. Para aumentar aún más el rendimiento de datos, este enrutador inalámbrico admite 2×2 MU-MIMO, OFDMA y tecnologías de formación de haces.
Además de la conectividad inalámbrica, el AX10 también es compatible con dispositivos con cable. Cuatro puertos Ethernet RJ-45 en la parte posterior del enrutador admiten velocidades de gigabit. TP-Link le ha dado al Archer AX10 un procesador de tres núcleos a 1.5 GHz para ayudar a garantizar que todos sus dispositivos disfruten de una experiencia fluida y sin buffer. TP-Link trabajó para que la configuración fuera igual de fluida con la aplicación Tether para dispositivos iOS y Android. Si lo prefiere, aún puede usar la interfaz web incorporada para ajustar la configuración de red.
2×2 MU-MIMO
El enrutador AX10 admite 2×2 MU-MIMO. MU-MIMO significa multiusuario (MU), entrada múltiple (MI), salida múltiple (MO). Eso significa que dos dispositivos separados en su hogar pueden disfrutar de transmisiones dedicadas de carga y descarga. Con cada dispositivo que tiene su propio «carril», se pueden maximizar las velocidades de transferencia de datos y la estabilidad de la conexión.
Beamforming
Las 4 antenas del Archer AX10 son compatibles con la tecnología Beamforming. Beamforming en realidad enfoca la salida de señal Wi-Fi del enrutador a sus dispositivos para ayudar a aumentar la intensidad de la señal y garantizar una conexión estable.
Duración extra de la batería con TWT
TWT significa Target Wake Time y es una característica del protocolo Wi-Fi 6 (802.11ax). Esta tecnología está diseñada para reducir la congestión de la red y preservar la vida útil de la batería de su dispositivo móvil. Lo hace al escalonar los momentos en que los dispositivos deben despertarse y transmitir datos. Al permitir que los dispositivos duerman más, se usa menos batería. Tenga en cuenta que su dispositivo debe ser compatible con Wi-Fi 6 (802.11ax) para aprovechar esta funcionalidad.
UPC: 840030700415
Precio
$79,99
Envío gratuito
26 Nuevo Desde $79,99

as of enero 27, 2021 4:46 pm
Características
JD Power Award ---Highest in customer satisfaction for wireless routers 2017 and 2019
Wi-Fi 6 Router: Archer AX10 comes equipped with latest wireless technology WiFi6 featuring OFDMA...
Next-gen Dual Band router – 300 Mbps on 2. 4 GHz (802. 11n) + 1201 Mbps on 5 GHz (802. 11ax)
Connect more devices than ever before Wi-Fi 6 technology simultaneously communicates more data to...
Imágenes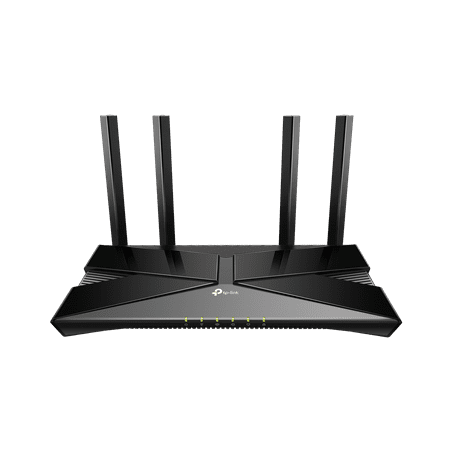 TP-Link Archer AX1500 Wi-Fi 6 Dual-Band Wireless Router | Up to 1.5 Gbps Speeds | 1.5 GHz Tri-Core CPU
as of enero 27, 2021 8:46 pm
The Archer AX1500 dual-band router comes equipped with the latest Wi-Fi 6 technology for faster speeds, increased capacity and reduced network congestion. | Reaching speeds up to 1.5 Gbps, AX1500 lets you experience buffer-free 4K/HD streaming and gaming. | With more and more devices in your home, your current router will likely begin to slow down. The Archer AX1500 lets you connect even more devices via OFDMA and MU-MIMO technology while minimizing network congestion and lag. | With hardware designed to meet your needs, the powerful 1.5 GHz tri-core processor effortlessly handles all your devices for ultra-smooth entertainment while 5 Gigabit ports give you wired stability and speed on more devices. | Archer AX1500 uses Beamforming technology to focus WiFi signal to your devices for more reliable coverage. | The Archer AX1500 is backwards compatible with all previous WiFi standards and all devices with WiFi capabilities. | For streamlined setup and management, download the Tether...
TP-Link Wifi 6 AX1500 Smart WiFi Router (Archer AX10)