Descubre los orígenes de Shulk mientras él y sus compañeros se enfrentan a una amenaza mecánica aparentemente imparable. Empuña una espada que ve el futuro, encadena ataques y coloca cuidadosamente a los miembros de tu grupo en un combate estratégico en tiempo real mientras viajas por un mundo masivo. Xenoblade Chronicles: Future Connected tiene lugar un año después de la historia principal y profundiza en la relación entre Shulk y Melia ante una nueva y misteriosa amenaza.
Tanto si eres un experto en Monado como si eres nuevo en el mundo de los Bionis, las actualizaciones y adiciones en esta aventura ya épica hacen que sea aún más fácil sumergirte en la historia, el combate y los entornos por los que la serie Xenoblade Chronicles es conocida. . Sumérgete en la emotiva historia con gráficos actualizados, escucha más de 90 pistas de música remezcladas o remasterizadas, y rastrea misiones más fácilmente con las adiciones y mejoras en esta edición definitiva.


Historial de precios para Xenoblade Chronicles: Definitive Edition - Nintendo Switch

Ultimas actualizaciones:

$62,33 - August 15, 2022
$59,24 - August 14, 2022
$62,96 - August 12, 2022
$44,99 - August 8, 2022
$54,55 - August 6, 2022
$54,95 - August 3, 2022
$59,95 - July 29, 2022

Desde: August 21, 2021

Highest Price: $62,96 - August 12, 2022
Lowest Price: $34,10 - October 11, 2021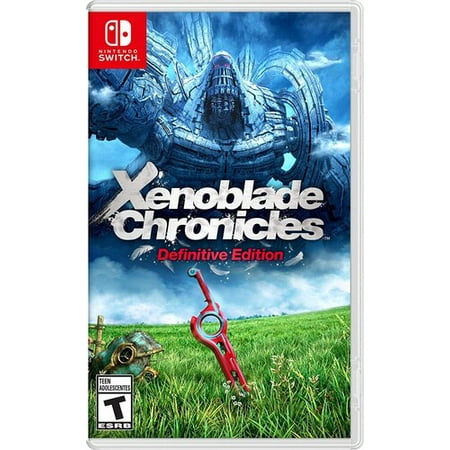 Xenoblade Chronicles: Definitive Edition - Nintendo Switch, 045496596958
as of agosto 16, 2022 2:49 am
Discover the origins of Shulk as he and his companions clash against a seemingly-unstoppable mechanical menace. Wield a future-seeing blade, chain together attacks, and carefully position your party members in strategic, real-time combat as you journey across a massive world. The Xenoblade...
Xenoblade Chronicles: Definitive Edition – Nintendo Switch